Booking a flight ticket with a better deal could be very challenging especially in the month of December, but not to worry
cheapoair.com
, the English version of it, is the website where you should browse and I am sure you will find some great deals to any destinations in the world.
I booked my flight with Air Transat Portugal airline. And then another flight from Lisbon to Casablanca. The price was 50 per cent cheaper than Royal Air Maroc or any other airlines. I only paid 740 USD round trip with
cheapoair.com
. One thing you should expect to happen when traveling with Air Transat is the delay. Both my flights were delayed but I liked it. I found very strange that the crew of a Portugal airline were all French people except one man who made some announcement in Portuguese language during the flights. In my coming back, the French crew were too noisy and had endless conversation among themselves all along the trip. I was at the back of the airplane and I could not get some sleep but at the end I did. I think airplane space is a public sharing space and one must respect that.
The food and the beverages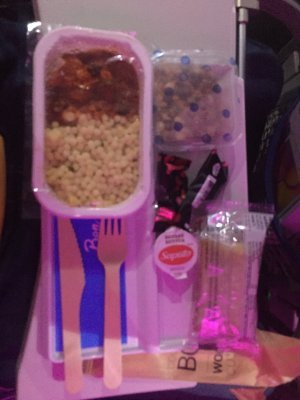 The Air Transat food was chicken rice that comes with some bread and small salad and some butter. the beverages were hot and cold beverages like juices, tea, coffee, or even wines. In addition, one snack. I am a tea drinker so I had only that. I personally don't rely on airplane food. I had some food before embarkation.
The luggage
It depends on the type of the flight but mine had a maximum weight of checked baggage no more than 10 kg but I had a carry-on as well. I traveled light so this did not bother me. You can check the luggage allowance here
https://www.airtransat.com/en-CA/travel-information/baggage/weight-dimensions
Casablanca Airport (CMN)
There are two areas at the airport: the registration and the embarkation.

If you are at the registration area restaurants the menu is like the one below. The price is in dirham currency. But as soon as you enter the embarkation area the food prices are in Euro and are very expensive. For instance, one sandwich in the registration area will cost around 50 dirhams but in the embarkation area cost three times more. 150 dirhams.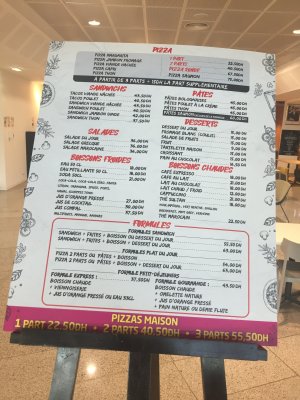 150 Dirhams for one Sandwich, really!
I was very curious about what kind of sandwich this one really is. Thus, I paid 150 Dhs and the sandwich was just some meat in a small baguette with some fries and a soda. It tastes delicious but the price is too expensive.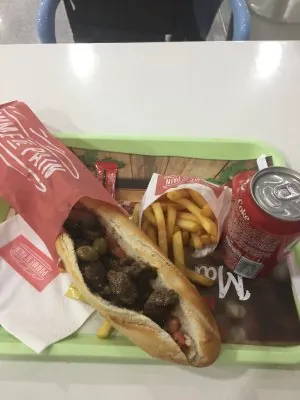 Same airport but different food prices and currency set. Is not it surprising!